Wholesale parmesan cheese and bianchetto truffle cream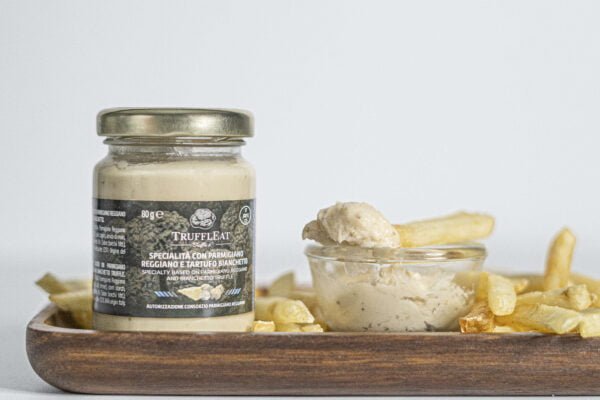 Specialties with Parmigiano Reggiano and Bianchetto truffle. Prepare the Specialità con Parmigiano e Tartufo sauce in a pan, drain the pasta, sauté for 1/2 minutes and add the Parmesan to complete the dish.
Product Price
€6,66

Click to add this item to cart.
Product Description
Ingredients: cream, Parmigiano Reggiano DOP 5% (milk, salt, rennet), corn starch, Bianchetto truffle 3% (Tuber borchii Vitt.), salt, flavourings. Acidifier: E270. Origin of the milk: Italy.
Expiration date: 36 months.
How to use: To make the most of the product's qualities, it is recommended to use a quantity of 40-45 g of cream per person, liquefying it by heating it in a pan for 1 minute with the pasta cooking water.
Organoleptic characteristics: Appearance: solid Colour: cream tending towards white Odour: typical Taste: natural, typical and pleasant, marked with truffles Consistency: compact cream State: solid
Allergens: The product contains allergenic substances or products containing these components: milk. Does not contain gluten. Contains preservatives (E270).
Nutritional values per 100 g: Energy Kj 1361 / Kcal 330 Fats 33 g of which saturated fatty acids 24 g Carbohydrates 4.5 g of which sugars 1.5 g Fibers 0.5 g Proteins 2.9 g Salt 0.79 g
Product Features
| | |
| --- | --- |
| Brand | TrufflEat |
| EAN | 8388776819036 |
| HS Code | 21039090 |
| Minimum order quantity | 12 |