Wholesale Caviar Royal Oscietra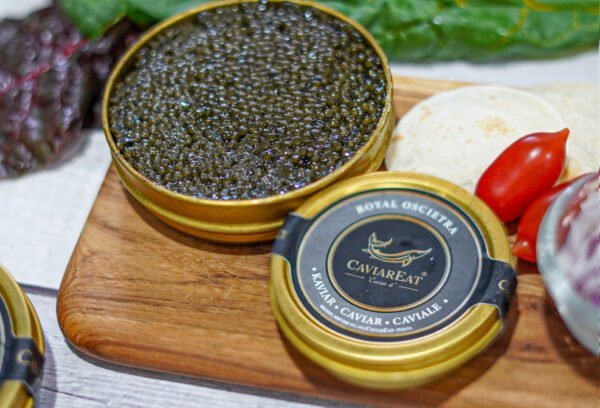 A caviar of the Russian sturgeon (Acipenser gueldenstaedtii). It comes from mature sturgeon for 12 years. The eggs are between 2,9 and 3,1 mm in diameter with a smooth and velvety texture. Rich and complex aromas, color from gray to brown, even golden yellow. The taste is underlined by the delicate and delicate salting of the Malossol.
Product Price
€45,90

Click to add this item to cart.
Product Description
Description: Oscietra sturgeon roe
Commerciali selections:
Imperial, delicious and refined
Classic, delicate and sublime
Ingredients: sturgeon roe, salt
Origin: Italy
Organoleptic characteristic: medium/large size roe, gray color with noisette shades, from brown to golde; strong and robust flavor
Storate condition: store in the refrigerator at 0°/+4°C
Consumption condition: enjoy caviar on its own, talking small spoonful at a time or as a garnish for first and second courses of fish
Shelf-life: 90 days from packagin for fresh caviar, 180 days from packaging for caviar which undergoes a light pasteurization. Once opened, store in the fridge and consume within 3 days
Allergens: fish and products thereof
Primary packaging:
Traditional tinplate can closed with elastic: 50 gr, 100 gr, 125 gr, 250 gr, 500 gr, 1000 gr, 1800 gr
Prestige metal tin with "coin" opening with vacuum seal: 10 gr, 30 gr, 50 gr, 100 gr, 125 gr, 200 gr, 250 gr, 500 gr
Glass jar with twist-off vacuum seal: 180 gr, 28 gr, 50 gr, 100 gr
Nutrition facts for 100 gr (seasonal variation may occur):
Energy: 927 kJ / 221 kcal
Fat: 11 gr of which saturared fatty acid 2,4 gr
Carbohydrates: 4,8 gr of which sugars 0,3 gr
Protein: 26 gr
Salt: 2,9 gr
Product Features
| | |
| --- | --- |
| Brand | CaviarEat |
| EAN | 0805698515757 |
| HS Code | 16043100 |
| Minimum order quantity | 12 |