Truffle seasons
Seasonality of the truffle
There are nine varieties of truffles in Italy which are edible but only six which are widely available: Bianco pregiato, Nero pregiato, Scorzone, Marzuolo, Invernale, and Nero liscio.
Aroma is oh-so important as it heavily influences your sense of taste. White truffles have a "balanced and delicate scent of garlic, hay, and honey" and should never be cooked. Their taste is subliminal when freshly shaved over risotto, pasta, or scrambled eggs.
Black truffles, on the other hand, weave their earthy flavour into dishes during the cooking process, like with cheese fondue or juicy roasts. They can also be grated fresh over pasta, eggs, or sautéed mushrooms on toasted croutons.
Infuse softened, unsalted butter with finely grated truffles to savour with a fresh, crusty baguette, baked potatoes, or to brush over meat before serving.
Full bodied red wines pair well with truffle dishes and in Piedmont, you'll no doubt find just what you're looking for at any of the region's intimate boutique wineries.
Truffle Seasons Calendar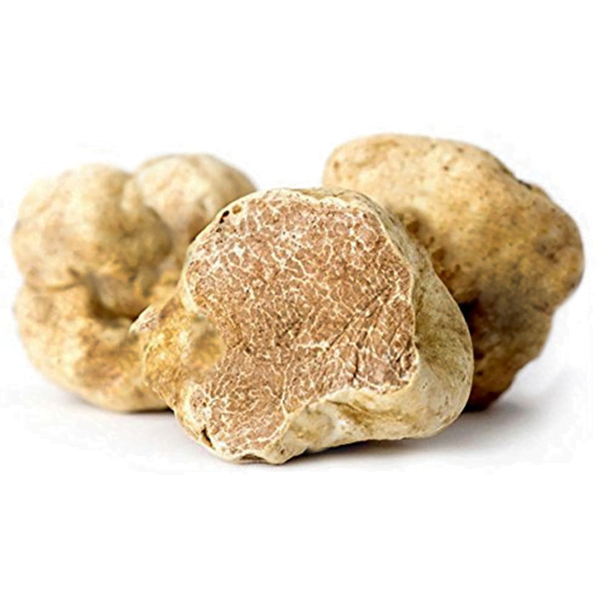 Fine white truffle (tuber magnatum pico)
The precious white truffle or Tuber Magnatum Pico is the truffle par excellence. It is born and grows only in Istria and Piedmont, where it takes the name of Alba Truffle. It lives in symbiosis with oaks, willows, lime trees and poplars, but it can also be found in black hornbeam and hazelnut trees. The appearance is globular, with irregularities on the peridium whose surface is slightly velvety. The color varies from cream to ochre and remains constant even when fully ripe. The gleba is white and yellow-greyish marbled with white veins. It is extremely aromatic, reminiscent of the smell of Parmesan cheese. It requires a soft and humid soil with good ventilation.
It is usually harvested between mid-September and December.
Bianchetto truffle (tuber borchii vittadini)
The Bianchetto or Marzuolo or Tuber Borchii Vittadini truffle is widespread throughout the Italian peninsula. It has similar characteristics to the white truffle because it has depressions on the peridium, it is smooth and of off-white color. In reality when it reaches maturity it becomes dark both inside and outside. Moreover, it differs from the more prized variant for its aroma: soft at the beginning, tending to assume strong tones of garlic afterwards. Its commercial value is lower than white. It prefers calcareous soils and deciduous woods such as turkey oaks, holm oaks and downy oaks, or conifers such as larches, cedars, firs and some species of pine.
The harvest takes place between mid-January and mid-April.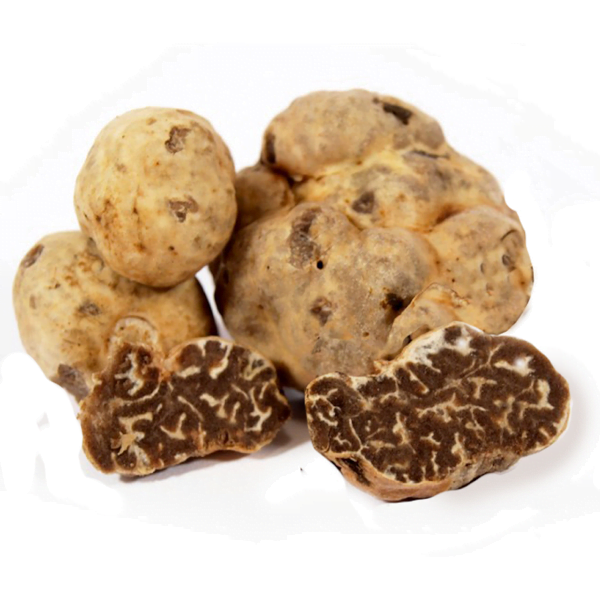 Fine black truffle (tuber melanosporum vittadini)
The fine black truffle or Tuber Melanosporum Vittadini is also known as the truffle of Norcia, Spoleto or truffle de Perigord. The peridium is quite homogeneous, the surface is blackish brown with rust red shades, the gleba is clear with light and thin veins. The shape is rounded with warts or lobes. The scent is pleasantly intense, aromatic and fruity. It prefers hills and mountains with little vegetation. It lives in symbiosis with downy oaks, holm oaks, Turkey oaks, lime trees, hazelnuts, black hornbeams and cistus plants. After the white truffle, this species is the most prized. It is widespread in Italy, Spain and France.
Usually the harvest is between mid-November and mid-March, but the regional administrations every year determine the exact period.
Scorzone or black summer truffle (tuber aestivum vittadini)
The black summer truffle or Scorzone or Tuber Aestivum Vittadini resembles the precious black truffle, but it stands out because at the moment of cutting the gleba has a dark yellow color. The surface has almost pointed warts, the smell is delicate. This variety can reach remarkable dimensions. It grows in clayey and sandy soils, from the plain up to 1000 meters. Depending on the altitude, it can be found in symbiosis with downy oak, oak, hornbeam, beech, hazelnut, or with downy oak, holm oak, oak, pine or hazel.
Harvesting takes place between mid-May and the end of August.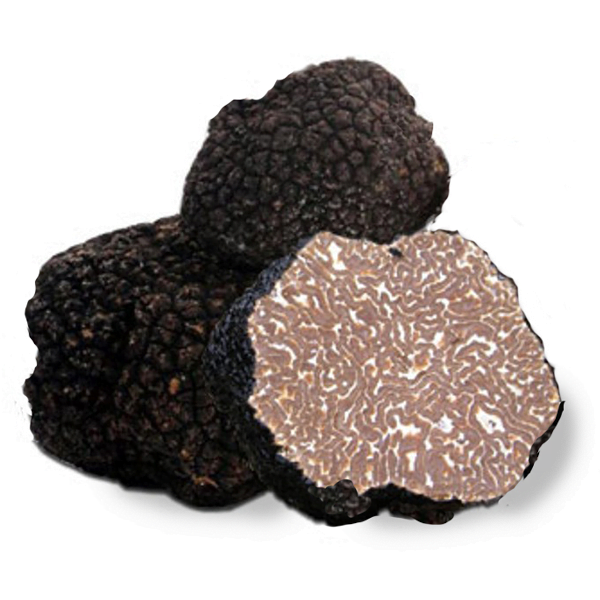 Brumale or black winter truffle (tuber brumale vittadini)
The black winter truffle or Tuber Brumale Vittadini is easily confused with fine black truffle. The surface is black-brown with small warts, while the gleba is dark with marble veins. The scent is intense and persistent with musky tones, and in the nutmeg variant reminiscent of the famous spice. It can be found in plants such as oak, oak, downy oak, beech, holm oak, black pine, larch, black and white hornbeam or hazelnut. Its economic value is half that of the precious black truffle.
The harvest goes from January to mid-March.
Smooth black truffle (tuber macrosporum vittadini)
The smooth black truffle or Tuber Macrosporum Vittadini is the least known and least commercialized variety, but it is still one of the most appreciated. The surface is smooth and the lines are minimal gibbous. The smell is distinct and pleasant. This species loves oaks, poplars, lime trees, willows, willows, hazelnuts and black hornbeams.
The harvest period is between July and the end of December.
Asian Truffle
The two main types of Asian truffles are the Chinese Black Truffle and the Mid-Eastern Terfez.
The merit of these truffles is highly disputed; some have called them comparable to black summer truffles, others find it completely different to any European truffle. They look like your average truffle on the outside, knotty and knobby, a dirty black-brown color, smaller than European truffles, about the size of a walnut. On the inside, they are jet black, with white spidery veins and a more elastic consistency.
They are harvested mainly from October to February.
Chinese Black Truffle (Chinese Black Truffle Tuber indicum or Tuber sensiese)
Also known as the Himalayan truffle (found in Tibet, Bhutan, Nepal) and the Szechwan and Yunnan provinces in China. Like all other truffles, they grow on the base of trees, typically pine trees or other conifers. They are commonly labeled as winter white truffle, and many say they are comparable to the French and Italian Winter or summer black truffle.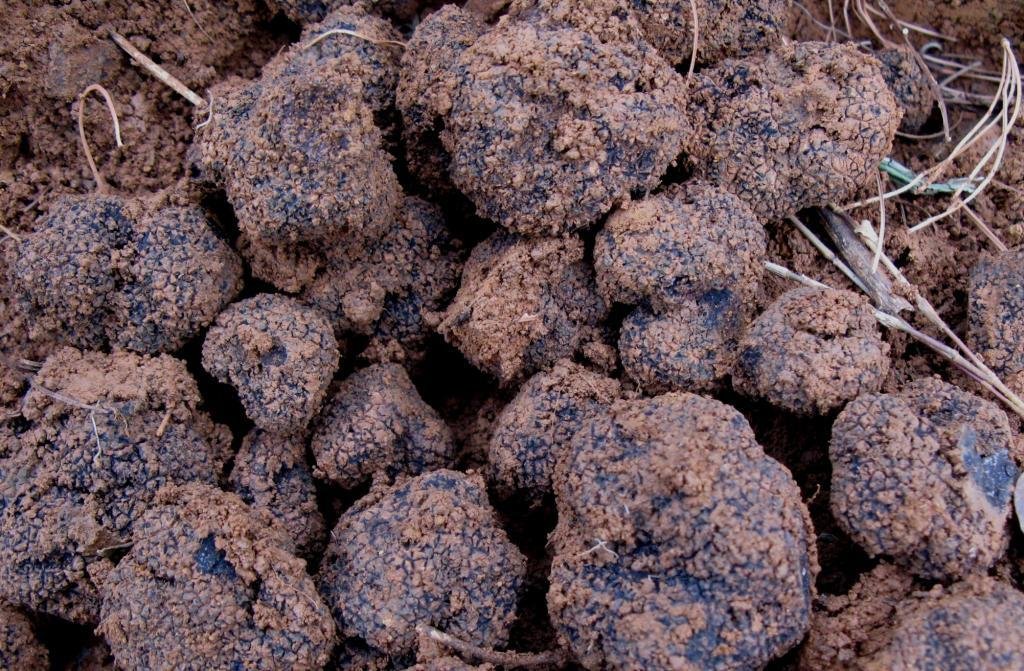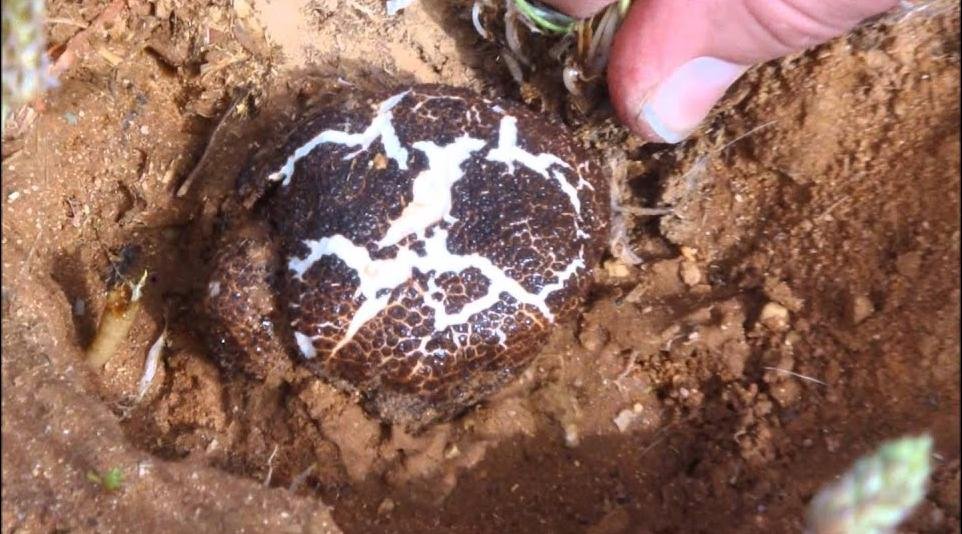 Terfez Truffle (Terfezia bouderi, terfezia spp, or Terfezia claveryi)
Also known as "black kame", or the "brown kame" or "desert truffle". It originates on the semi-arid regions of North Africa and Middle East, from Morocco to Iraq. This subterranean mushroom grows abundantly underneath the hot desert sand, and has been collected after heavy rainfalls for thousands of years. Today, it is the most widely collected truffle in the world. They are attributed certain aphrodisiac qualities, and often associated with the cult of the Greek goddess of love, Venus. This truffle is highly perfumed (some would say overpowering), and is traditionally cooked with dishes such as couscous, and is very high in protein. The Terfez is a lighter colored truffle.
The harvesting season goes from late December to early April.